WHATSAPP
54 9 11 2865 3117
Brenda Angiel Bio
Brenda Angiel is Argentinian, born in Buenos Aires, Argentina. For her work, she received awards, grants and scholarships that turned her into an unquestioned referent between the argentine choreographers. She was formed in different techniques of contemporary dance, classical ballet, improvisation, choreography and drama. In 1988 she moved to New York, where she lived for 3 years and studied, primarily at the School of A. Nikolais and M. Cunningham. Her first works were seen in New York, at the Dance Theater Workshop, as part of the program "Fresh Tracks" (December 1990) and at The Kitchen as part of Working in The Kitchen (1991).

In 1994 her search for new choreographic languages is geared toward the creation of a movement of a new nature: Aerial Dance. Brenda has been convened on two occasions by the Municipal Company of dances of Caxias do Sul (Brazil), for fitting two of her works and by the Ballet IUNA (National University Institute of Art). The American Dance Festival invited her as an international choreographer in residence in 1997, and in the years of 1998 and 2002, as international choreographer commission program, to create a masterpiece. As part of her international career is also highlighted the choreographic creation for the Wired Aerial Theater in the city of Liverpool, England in 2008.

Brenda founded the First Aerial Dance School in Buenos Aires, Argentina 1997, where classes are taught for kids, teenagers and adults. She has also taught workshops while the company is on tour and as part of the faculty at the American Dance Festival, at the Aerial Dance Festival in Colorado and in an intensive workshop organized by circelation organization in England. She was the dance curator of the Rojas Cultural Center of Buenos Aires University and she is now the Artistic Director of Ciudanza Festival of Dance in the Urban Landscape of Buenos Aires.

The aerial dance according to Brenda Angiel

I have been developing a line of technical research and choreographic composition that occurs in another "nature", which I call aerial dance. Aerial dance composes a lexicon without departing from the laws of the language of dance, interpellated the processes of perception of the spectator from a space illusion that allows him to transcend his static vision, generating a new point of view. At the same time, it reshapes the use of scenic space by discovering sectors of the "Italian" stage rarely exploited. In aerial dance there is a process of reformulation of the choreographic decisions (time, space, order and nature of the movements, as well as the interpretative technique). The technical resource used to build this goal is achieved through the suspension of the dancers by means of ropes (static and elastic) and harnesses. The result of this development was the drawing of a personal, intuitive aesthetic, where visual and kinetic pleasure is a fundamental part, as well as the artistic risk marked by exposure of the body.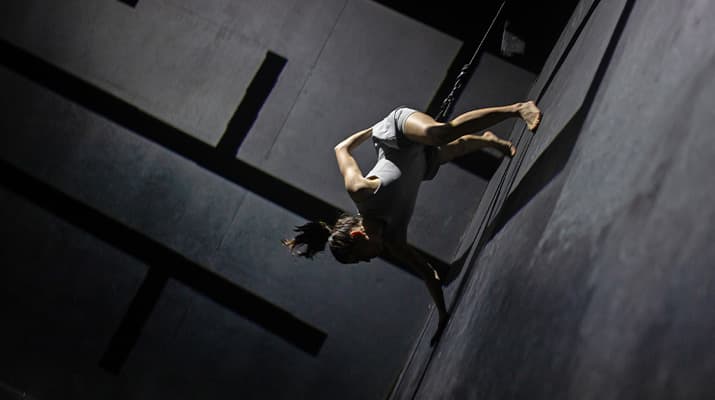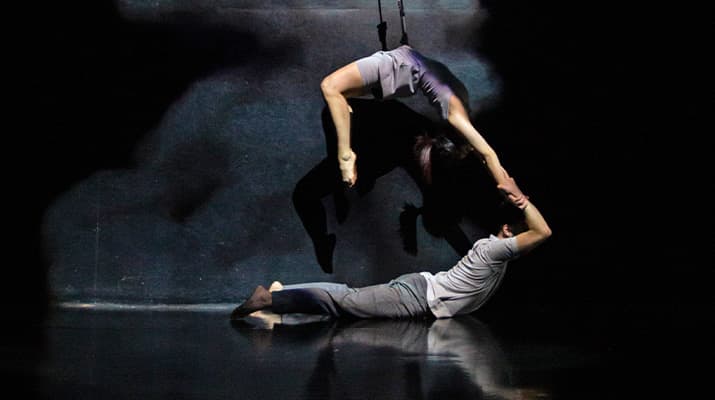 Works
• Three parts and a wall (1995)
• Other parts (1997)
• Up-art (1997)
• South, wall and after (1998)
• The wall '98 (video-dance)
• Part in Part (2000)
• A Piece of Buenos Aires (2003)
• Una variante (2003) University Dance Company
• Vuelos Aires (2004)
• Air Condition (2005)
• Fervorous (2008) in collaborattion with the Wired Aerial Theatre
• 8cho (2010)
• La Limousine (2010) for the Experimental Centre of the Colón Theatre
• Bilingua (2013) In collaborattion with Doug Varone Next Wave Festival DanceMotion USA
• Pasó Volando, 20 años de la Compañía de Danza Aérea de Brenda Angiel (2014)
• Movi (2017)
• Punto Mov (2019)